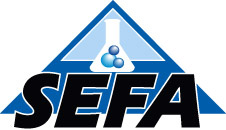 April 2016
ICI's Jamestown Products have been Certified compliant to the prestigious Scientific Equipment & Furniture Association (SEFA) Recommended Practices! ICI is one of only eight (8) SEFA Executive Members to date, out of one hundred sixteen (116), to present SEFA with the required testing documentation.
In the November 2015 Annual SEFA meeting, SEFA Executive Members voted unanimously in favor of By-Law changes presented by the Board of Directors. Executive Members are now required to submit a certified test report from a SEFA-approved testing facility; establishing that the Member manufactures laboratory furniture or related equipment at its manufacturing facility, which complies with SEFA-8's Recommended Practices.
ICI's Jamestown Products steel casework was tested to the SEFA-8 Metal Standards and completed all required testing for the casework material type – including Cabinet Load Tests, Chemical Resistance, Hardware Cycle Tests, etc. ICI's CampbellRhea and Tier One Wood laboratory casework and furniture is being tested now; and, we anticipate the SEFA-8 Wood Compliant Certification shortly. Meeting and exceeding SEFA-8 Wood Standards has always been the standard for this ICI Casework Division.